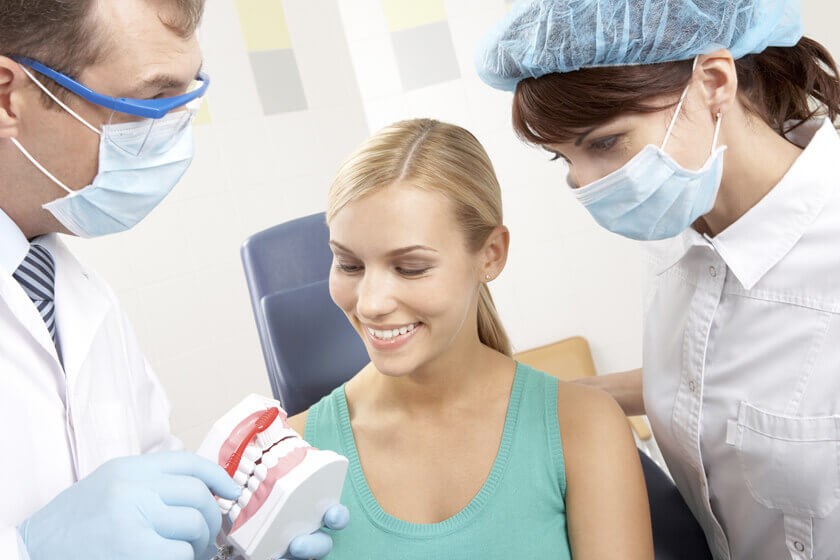 Sticking to a good schedule that involves tooth brushing and flossing every morning and night is vital to make sure that your smile is in its best possible shape. But what many patients fail to realize is that regular cleanings done by a dental hygienist are just as vital to your oral wellness. Biannual teeth cleanings, also known as prophylaxis, are a general dental care treatment that eradicates plaque and polishes the enamel. Having your enamel professionally scaled and polished on a biannual basis can keep bacteria, buildup, stain accumulation, and many other problems controlled. Eliminating the buildup from the mouth might also get your teeth and gum tissue into their best shape, as well as freshen your breath.

Visiting the dentist twice annually for routine cleanings is a critical aspect of each person's oral health plan. Our experienced team of dental professionals and hygienists employs contemporary techniques to perform standard oral care treatments and enhance the smiles and happiness of Chicago, IL people. When you are due for a professional dental cleaning or have different oral health concerns, DentalWorks - Chicago Loop would love to be your reliable source for oral care. We invite you to skim this online source so you can discover what things you need to know about biannual teeth cleanings and the ways this preventive dental care treatment might benefit your smile, today and far into the long term.

WHAT DO PROFESSIONAL TEETH CLEANING APPOINTMENTS ENTAIL?
A routine dental cleaning at DentalWorks - Chicago Loop will vary to suit your individual health requirements. Other comprehensive dentistry treatments may also be administered at a cleaning appointment to help you get optimized benefits from your trips to the dentist. Your other treatments might involve dental sealants or fluoride treatments. Teeth cleanings from our knowledgeable Chicago, IL team are in-depth and individually tailored to allow you to enjoy your best smile.

To begin, one of our hygienists will ask about your medical standing
Chicago, IL patients are typically surprised to discover that their oral health may have an effect on their general physical wellness. Prior to your professional cleaning, your medical past, along with the medications or supplements that you take, will be thoroughly assessed. Doing this offers our team a better understanding of your general physical health and the ways it might impact your oral standing.

From there, someone on our knowledgeable staff will clean your teeth.
The majority of your teeth cleaning visit is devoted to eradicating plaque and bacteria from your enamel. Food particles and buildup create an environment where harmful bacteria accumulate and release toxins or acids that could potentially weaken your oral structures, like the enamel. The highly trained hygienists at DentalWorks - Chicago Loop can delicately scale the plaque and buildup from your enamel to help enhance your oral wellness and lessen the potential for multiple concerns, like cavities and gum disease. Yellowing or stains that have built up on the teeth from caffeinated drinks or various other products could also be eliminated for a lighter and smoother appearance to your smile.

Fluoride treatments may be made available to kids or teens who are prone to tooth decay.
A fluoride application is a helpful service we offer to strengthen the teeth and safeguard against the development of damage. This treatment is generally performed for children, but it might also benefit teens and adults who display signs of early tooth decay, past issues with cavities, visible tooth root surfaces, or other areas of concern. To benefit patients who may be at a greater risk of developing cavities, fluoride can be layered on the teeth at the conclusion of their teeth cleaning visit.

HOW FREQUENTLY SHOULD MY FAMILY HAVE A PROFESSIONAL TEETH CLEANING?
Professional teeth cleanings are typically recommended about two times annually, but people who have periodontal disease or other dental problems might benefit from cleanings three or four times a year. Our compassionate Chicago, IL professionals will learn about your needs and help you determine the teeth cleaning routine that's appropriate to ensure your teeth and gumline are in their ideal condition.

TRUST A DENTIST WHO'S DEVOTED TO THE WELLNESS OF YOUR SMILE
A smile is generally one of an individual's most valuable features. Getting regular dental cleanings is vital to make sure that your smile is glowing, cosmetically appealing, and in excellent condition. To accomplish this, it's crucial that you select a dentist who is just as committed to the wellness of your smile. Our team of oral care professionals at DentalWorks - Chicago Loop has a desire for elevating the well-being of our wonderful patients by using an attentive approach to oral treatment. We invite local individuals to get in touch with our Chicago, IL office today to arrange an appointment for a professional dental cleaning.